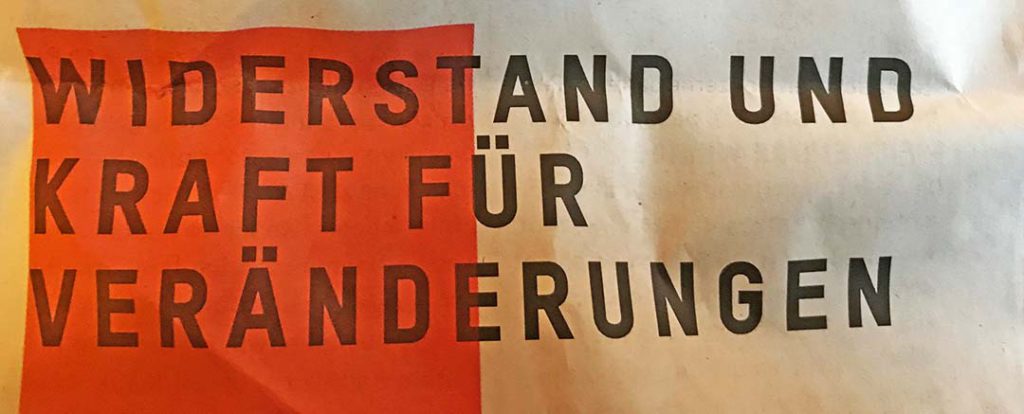 For the following issues I gladly offer workshops, write articles, discuss on panels or design keynotes or lectures.
Car Industry // Traffic & Transport // Urban Mobility

Climate Justice

Social and Ecological Transition // Degrowth

Systemic Change in Non-Government-Organizations

Civil Disobedience

Lignite mining in Germany

Alliances with trade unions

Feminism
The specific issue or format might be something totally different and the subject can also be combined. Principally, I will design the format and content according to the audience of the event.  I speak German, English, Spanish fluently and some ok French. For some groups without any resources I am willing to work for free or for the travel costs.
Car Industry // Traffic & Transport // Urban Mobility
A comprehensive change in traffic is not only necessary in order to protect the climate. We also face endless traffic jams, noise and air pollution, road fatalities, and unevenly distributed space within our cities. Our car-centered traffic system has come to its limits. Mobility must be car-free and therefore green, fair, affordable, non-discriminatory and fully accessible to everyone. At the same time, one of the largest and most powerful industries, and therefore millions of jobs, depend on the current model of mobility and transport. Therefore, it is essential that conversion and transformation concepts are developed with and for the employees. An ecological conversion of the automobile industry shall not be charged to the employees.
"I thought of that while riding my bicycle."
(on the theory of relativity)

Albert Einstein

Climate Justice
Climate Justice is a key demand from people of the Global South. They are the ones who least contributed to the current climate crisis but are and will be the ones who suffer most from its catastrophic consequences. By the climate crisis it becomes evident that we are not dealing only with massive ecological destruction but actually with a queston of global social injustice. The claim of climate justice includes the need for industrialized countries to strongly reduce greenhouse gas emissions and to support poorer countries to mitigate the consequences of planetary heating. This means that industrialized countries need to phase-out now fossil fuels. Furthermore, we need a drastical conversion of our economic syetem as well as revolutionary social change.
Social and Ecological Transition // Degrowth
Our economic system demands continous growth. This cannot be sustainable on a planet with limited resources. The current economic and social role model  provokes and promotes competition between all people and is destroying our basis for life as well as the natural habitats of humans, animals and plants. Degrowth and Transition approaches are theoretical and practical suggestions for a society that pursues the well-being of all and that at the same time maintains the ecological livelihood. Additionally, a social and ecological transition must not only respect planetary boundaries, but also provide more social justice and democratic participation. That is why a fundamental change of our economic system as well as cultural transformation is necessary. We need to create a society that is based on respect, mindfulness, solidarity and cooperation.
There must exist a paradigm, a practical model for social change that includes an understanding of ways to transform consciousness that are linked to efforts to transform structures.

bell hooks
Systemic Change in Non-Government-Organizations
Having received an advanced training to become a Smart CSO Change Agent I developed a critical view on the work of Non-Governmental-Organizations (NGOs). Usually, NGOs work on specific issues or subjects. Although they seem to be successful in many ways, they also seem to loose the bigger struggles and they tend to not connect their issues or work on systemically relevant questions. The approach of Smart CSO is to asses the effect of NGO's work from the perspective of a necessary social and ecological transition. The emphasis and the work flows sometimes need to be changed in order to contribute to real social change. Part of this is as well that employees of NGOs need to learn to handle their own resources more sustainably – especially in an environment where there are always burning issues.
We have won so many battles, but we are loosing the planet. It is important to ask why.
Civil Disobedience
Many if not most of the important social changes that took place in the past were pushed by courageous people who were willing to break minor laws for a higher cause.  Actions of civil disobedience were a legitimate method in colonial struggles for freedom, in the anti-apartheid movements, in the women movements as well as in environmental struggels in order to put up resistance and to fight against injustices. Civil disobedience from these brave people ensured that we have now and today many rights that we take for granted. I am familiar with the theoretical background of civil disobedience as well as with the practical aspects of politicas actions.
Lignite mining in Germany
In Germany, alsmost a quarter of energy is still produced with lignite coal. Lignite coal is the dirtiest and most polluting way of generating electricity and its combustion is a major contributor to the climate crisis. The Rhineland area is one of the biggest emitters of CO2 in Europe. Besides, the mining of lignite still provokes forests to be cleared, villages to be teared down and people to be resettled. At the same time, Germany produces more energy than it needs, so the energy is exported to neighboring countries. So the energy is coming from a country with a high consumption of energy that is still having more than it needs. Given the massive environmental destruction on the local level and the disastrous consequences for the global climate, Germany needs to phase out from coal now – with socially just solutions for the workers in the mines and the local population affected by it.
Alliances with trade unions
Due to my work as a project manager as well as my voluntary work in the climate justice movement I started to build bridges between trade unions and environmental groups. New and unusual alliances are needed for a social and ecological transition. The climate and environmental movement tends to be blind for social issues; at the same time ecological questions play only a minor role in most trade unions. In this respect it is a very important cause for me to connect these questions and movements. Ecological sustainability must come along with social justice and the material security of people should not cross the planetary boundaries.
Feminism
I call myself a feminist when people ask me if I am, and of course I am 'cause it's about equality, so I hope everyone is. You know you're working in a patriarchal society when the word "feminist" has a weird connotation.

Ellen Page
Yes, I am a feminist. Because feminism is awesome, because feminism stands for gender equality, because feminism thinks intersectionally, because feminism builds alliances, because no person should be treated with sexism, because beauty standards are stressing everybody out, because nobody should make others small to feel greater, because we should support each other, because feminism is awesome,  because we need to defend ourselves with loud voices, because I am worth the same as you, because I do not want to be reduced, because people like Weinstein, Trump or Spacey are no exceptions, because tough guys are annoying, because men do not need to be strong all the time, because we all want to be heard, because feminism is awesome, because…